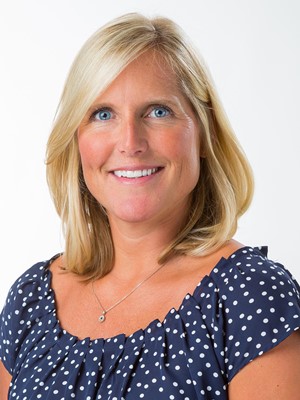 Sara MacDonough-Civitello is a member of the Quinnipiac University Sports Medicine and Athletic Training staff. She works directly with the Men's Basketball Team, teaches within the Sports Medicine Program, and serves as a Clinical Instructor and Mental Health Liaison for the Athletic Department as a whole. Sara is a certified CPR, AED, and Basic Life Saving Instructor and has a passion for teaching Emergency Management of Athletic Trauma. She has a myriad of experience within the collegiate and military setting having work experiences at U.S. Coast Guard Academy, Colby College, Marist College, and East Stroudsburg University.
Having more than 20 years of experience within her profession, Sara has specific expertise in the field of football, lacrosse, and basketball and has worked with numerous other sports along the way. She has consulting experience, identifying and offering mitigation plans for areas of liability in the collegiate sports medicine setting. In addition to performing preventative, administrative, rehabilitative, and emergency care duties for varsity athletic teams, Sara also has a background in strength & conditioning, mental training for athletic performance, and culture development. She has also supervised student athletic trainers in the clinical setting and worked to advocate for her student athletes.
Hailing from Marshalls Creek, Pennsylvania, Sara grew up community minded, working in the family owned general store and watching her father David and grandfather serve as volunteer firemen and EMTs. Both Sara's mother Susan who worked for an orthopedic surgeon, and her grandmother, a WWII Army nurse, had a significant impact on Sara's desire to work in the medical field.
Sara resides in Hamden with her husband Mike Civitello.