I have no recollection of the day that changed my life forever. I'll only be able to tell the stories that I've been told. The evening of my sudden cardiac arrest, the doctors told my parents that I had a one in a million chance to survive. Although I've had many experiences that I will never forget, I will never remember the day that I went into cardiac arrest.
THE DAY I DIED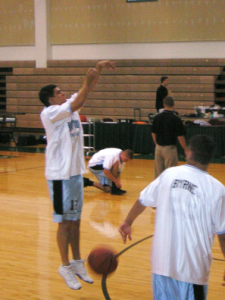 I was 17 years old at the time and everything seemed to be falling into place. I was a good student, had good friends, and was doing everything I could possibly do to fulfill my dream of being a college basketball player. The morning of August 24, 2006, was no different. I did my daily basketball workout in the morning and then went over to a local basketball camp where I was a coach. I arrived at the Parks and Recreation Department, where the camp was being held and walked over to change my shirt. That is all I remember of the day that I "died."
From what I've heard I was sitting down on a bench when I just slumped over onto my knees. No one in the gym really knew what was going on. My dad, my brother, and my best friend stood there, watching. Someone called 911 implying someone had broken a bone. A second 911 was called saying a 17-year-old was on the floor and unresponsive. There was no automated external defibrillator on site.
That was when my hero's pager went off. Luckily, he was working right next door in a different building. He left work without anyone noticing and ran over to where I was. By the time he got to me, I had turned blue and was taking my last agonal breaths. He gave me CPR perfectly, saving my life (as well as my brain).
When the ambulance arrived, they used an AED to restart my heart and put it into a normal rhythm. They still didn't know if I would make it. I was brought to MidState Medical Center where I had a second arrest. They wanted to Life Star me to Hartford, but needed a large, specialized ambulance to hold the necessary equipment, doctors, and nurses. My mom rode in the front seat of the ambulance, not knowing if I was going to live. Earlier that morning I had been battling on the basketball court; now I was battling for my life. For the next three days, I was unaware of everything. The hospital revived me, but there was still the question of whether I would have brain damage.
Finally, I started to come around and began to remember where I was and why I was there. I went through some uncomfortable tests, which resulted in the diagnosis of Hypertrophic Cardiomyopathy—a thickness of the septum and apex of my heart. After the tests, I thought I would resume my "old" life, with the exception of daily medication. I was right about the medicine, but the doctors delivered some crushing news. I would have an ICD, or a defibrillator, implanted in me and I would never be able to play competitive basketball again. At first, I didn't understand why; basketball was a big part of my life. But as time passed, I began to accept that I would have to change many parts of my life. I felt very fortunate to be alive.
After returning home and getting my life back to normal, I felt like I needed to give back. I felt like I needed to help others. My mom contacted the American Heart Association and they welcomed us with open arms. We both became volunteers and spokespeople for them. We agreed to share our story to try to help save lives. We did lobbying in Hartford, as well as Washington D.C. We assisted in two bills being passed in Connecticut mandating defibrillators be placed in all public schools in Connecticut. It was very fulfilling to try to help save someone from going through the trauma we had experienced as a family.
A SHOCKING SETBACK
As the years went on, life became more and more normal. I attended Quinnipiac University and started to pursue my new dream: to be a college basketball coach. After graduation, I got my first assistant coaching job at the University of Massachusetts-Lowell. After spending a year there, I was lucky enough to get hired back at my alma mater, Quinnipiac University, as the Director of Basketball Operations. Once again, life was falling into place.
In August 2014, eight years after my cardiac arrest, it was time to get my defibrillator battery changed. Although it's a very routine surgery, my family and I were nervous. I went in for the surgery and unfortunately, it didn't work. They tested the device with the new battery and it did not shock properly. The doctors decided they were going to add another wire on my left side, going from the device into my heart. They went in the next day to do the surgery, added the wire, and the device worked. I went home to recover and was ready to get back to normal again.
A couple of months later, in October, the device started to get really itchy, swollen, and red. I went back to the doctor and he gave me medicine, which made the device look and feel much better. Another month later, in the middle of November, I started getting sick. I was spiking fevers of 103-104 degrees. Again, my doctors had me return to Boston thinking the device was infected.
Just when everything seemed so normal, life had thrown me another curve ball. After days of running blood work, doctors came to the conclusion that my implanted defibrillator had become infected. It would have to come out. The infection had entered my bloodstream, which made the need for the surgery imminent. This meant the battery and all three leads would need to be removed. We knew there was more risk associated with this surgery. They told me they were going to be prepared for any possibility. There was a 1-2% chance that while removing the leads burrowed in my heart muscle, a tear could occur. It was extremely unlikely, but if it did happen they would have to perform emergency open-heart surgery.
I went into surgery hoping for the best, but unfortunately, while they were removing one of the leads, the scar tissue ripped and they had to perform emergency open-heart surgery. Twelve hours later I was brought to the intensive care unit on a ventilator. Once again there was the possibility of brain damage because my blood pressure dropped drastically during the surgery and I required eight blood transfusions.
I awoke Thanksgiving morning. The ventilator was removed and I gave a thumbs-up to my mom and my electro-physiologist. I was about to embark on two of the most physically and mentally challenging months of my life. Fortunately, I had the support of my family and close friends to help me through this time.
After recovering in the hospital and regaining some of my strength, I went home with a pic line in my right arm pumping an antibiotic into my body, and a life vest that would serve as a defibrillator until I got a new one put in. The doctors wanted to be sure the infection had left my system before putting in the new device. At the end of January, they scheduled one final surgery to give me a new device. They installed a new defibrillator (a subcutaneous ICD) and the surgery went perfectly. It was a huge relief for my family and me.
IN A HEARTBEAT IS BORN
Once my recovery period was over, I once again felt as though I needed to do more to help others. I had been blessed with two different situations in my life where I was fortunate to survive. This is where the idea for the In A Heartbeat Foundation came. With the help of family and friends, I decided it was time for us to start our own nonprofit foundation with one goal in mind: to save lives.