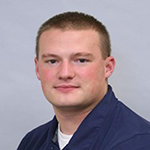 University of Saint Joseph Athletic Director Bill Cardarelli has announced the hiring of Brandon Gade as the sixth head women's basketball coach in University history for the upcoming 2016-17 season. Gade has seven years of coaching experience, including five at the collegiate level, and takes over the reins at USJ after spending last season as an assistant coach at Manhattan College.
"We are delighted to bring Brandon on board here at USJ. He brings a wealth of experience to the program, especially on the recruiting side of things," stated Cardarelli. "He has shown a tremendous amount of passion and commitment to the sport of women's basketball and we are excited for him to get started."
While at Manhattan, Gade was primarily responsible for post player development and also assisted in recruiting, opponent scouting reports and game scheduling. He helped lead the Jaspers to a 15-16 season, including an 11-9 mark in MAAC play and a trip to the MAAC Tournament Quarterfinals.  Prior to Manhattan, Gade spent one season (2014-15) as an assistant coach at Yale University. There, he was in charge of wing player development, while also assisting in scouting and recruiting.
"I am incredibly honored to be the next head coach at the University of Saint Joseph," said Gade. "I would like to thank Athletic Director Bill Cardarelli for this tremendous opportunity and I am thrilled to be back home coaching in front of my family and friends and also back in the GNAC. I can't wait to get started and get out on the court with the players."
Gade, a Wallingford, CT native and 2011 graduate of the University of Connecticut, returns to the Great Northeast Athletic Conference (GNAC) after spending two seasons as an assistant coach and recruiting coordinator at Albertus Magnus College from 2012-14. He began his collegiate coaching career at Queens University, a Division II school in Charlotte, N.C., during the 2011-12 season.
While at UConn, Gade was a practice player his sophomore year for the Huskies' women's basketball team in 2008-09. That season, UConn, led by Maya Moore and Tina Charles, started its NCAA-record 90-game winning streak, going 39-0 and winning the National Championship. Then during his junior and senior years, he was the head junior varsity and assistant varsity girls' basketball coach at E.O. Smith High School, located right next to the UConn campus.
Gade holds a Bachelor of Arts degree in Human Development and Family Studies.